In the recent years, more and more companies are exploring various services to fulfill their HR needs, particularly ones related to payroll. As online payroll calculators offer a variety of features that make calculating salary a faster and much more efficient process. They also help to reduce a number of human errors, as no employee would be happy to receive a paycheck with one or two zeros missing.
Here we want to review and rate 5 different payroll services.
Rating Payroll Calculators
Clockster is a Singapore based company founded in 2017 and quickly becoming a leading HR platform in the region. During and after the pandemic Clockster has been taking advantage over big HR-solution companies that required staff downsizing, yielding a multi-vector scale up towards the South-East Asian market. It offers payroll services that can help businesses resolve various payroll issues, increase efficiency and accuracy due to integrated employee attendance and smooth schedule management. Clockster is an online payroll calculator perfectly tailored to small and medium businesses.
Pros:
User-friendly, intuitive software in both the Web-version and the mobile app;
Free access for businesses with less than 30 employees and very affordable plans;
Flexible salary components that account for everything (taxes, additions, deductions, attendance, etc.);
Responsive and prompt customer support;
Attendance can be executed via biometric devices;
Transparency and responsiveness from client feedback (Clockster is quite active on social media: FB, IG);
Auto-generated payslips*
*A payslip is a document provided by the employer to the employee with the detailed account of total amount earned, including all additions, deductions, taxe, etc. Therefore payslips are important for both sides as they insure clarity and transparency of salary payments.
Cons:
Clockster is a younger HR platform, but it has seen continuous development and constant improvement.
GreatDay HR offers all-in-one platform for managing HR tasks and all aspects of the employee lifecycle. It claims to provide a fast and accurate payroll calculation, as well as automatic alignment and distribution of payslips.
A comprehensive solution for managing all HR tasks;
Simple and customizable software for managing payroll;
Payroll system is fully integrated with the attendance system.
Workday Human Capital Management is a single system with a single data source, a single security model, and a single user interface. It is one of the more trustworthy payroll calculators on the market.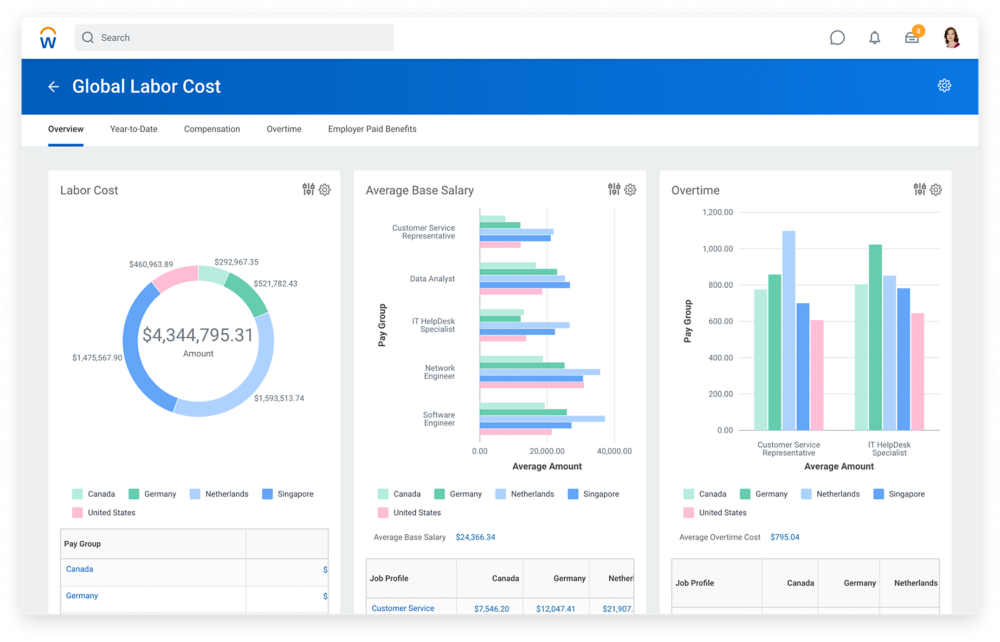 One comprehensive system for payroll, HR and time;
Easy to understand and use software;
Built-in reporting and analytics;
Automated payroll operations.
Bukugaji is an Indonesian software company that aims to manage attendance data, calculate payroll and provide payslips easily and for free.
Provides its services for free;
Simple and easy-to-use mobile application;
Responsive customer support.
PayAsia is company founded in the mid-2005 due to the growing demand of Payroll Outsourcing among small and mid-sized enterprises. Nowadays PayAsia is an outstanding provider of payroll, payments and HR solutions with 14 international offices.

Many years of experience in the payroll and HR solutions field;
Offers a multi-country payroll for international businesses;
Provides banking solutions to streamline the funding of employee payments;
Web-based employee self-service.